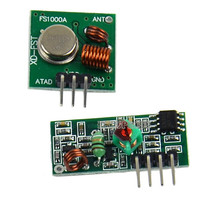 After my wildly successful post How to turn your Raspberry Pi into an infrared remote control, which was mainly a list of various resources and instructions on how to record and replay infrared signals with the Raspberry Pi, I am writing the second instalment, on controlling RF devices with it.
I've long wanted to control my garage door from the internet (because apparently I love making useless enhancements to things that run on electricity), but I couldn't figure out the codes it sends. Even though I could, in theory, use the Raspberry Pi as a poor man's RF transmitter (hint: don't do this because of the noise, and it doesn't work anyway because of kernel timings), I didn't know what to transmit with it, and I couldn't find the protocols anywhere online.
To help in this herculean task, I bought an RF transmitter/receiver pair (pictured on the right) from eBay for around 1 euro (with shipping), which can decode received signals (and send them again).